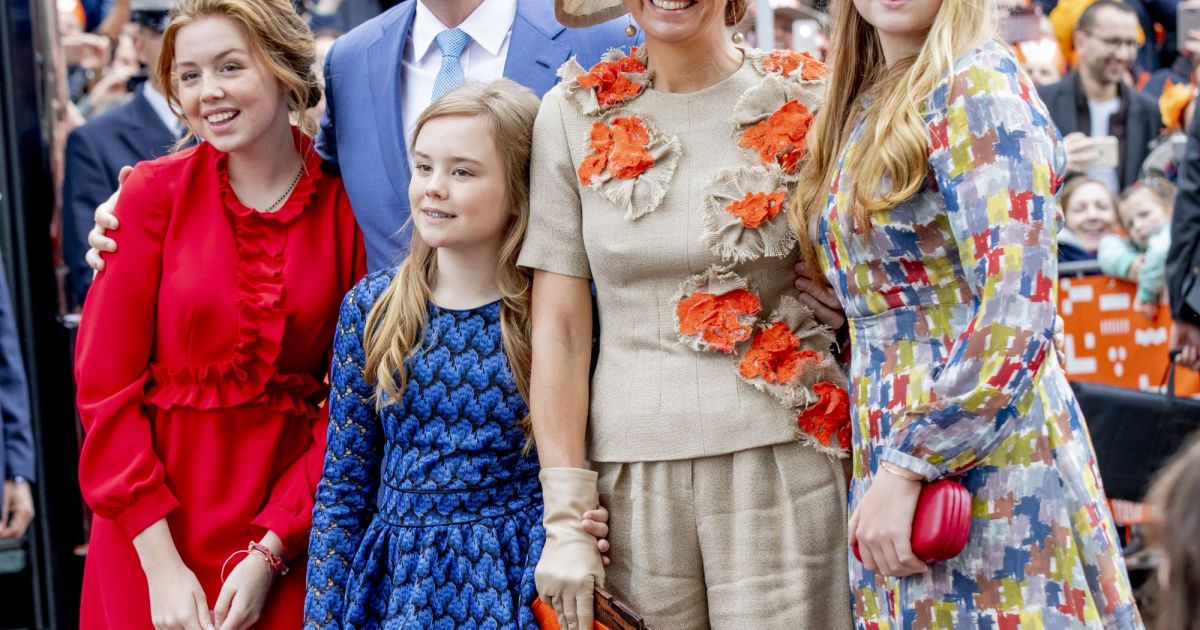 At Amersfoort, it was the excitement ! The streets had been invaded by a tidal wave of orange – the same distributors of tickets of train from the central station, to the screen, displayed their menu in this color !
Queen Maxima, who gives a care well-known to its required, complied with, of course, the dress code with orange flowers embroidered on her dress, shoes and a bag of the same color. Two months after their stay to winter sports, Willem-Alexander of the netherlands has had the pleasure of meeting on the spot his younger brother, prince Constantijn and his wife princess Laurentien, but also his cousins, children of his aunt, princess Margriet : prince Maurits of Orange-Nassau, with his wife princess Marilène, dressed up in fuchsia and earrings roses assorted, prince Bernhard, with his wife, princess Annette, prince Pieter-Christiaan and princess Anita, and prince Floris and princess Aimée, who also was the color with his pants sunflower yellow. The four brothers and their wives, very beautiful mood, had also taken advantage of the splendid atmosphere that prevailed, that lends itself with pleasure to the sessions of selfies with the crowd.
After a first musical performance involving a choir of children, the royal family has had plenty of time to receive a standing ovation noisy and greet the audience as she performed a kilometre walk up to the nerve centre of the festivities. Along the way, she made a stop to test his knowledge of the area, a quiz won by the team which included prince Pieter-Christiaan. As for the daughters of the royal couple, this is a guessing game to which they were entitled from the zoo of the city, to find the touch what kind of animal was in front of them.
A sign that nothing could spoil the holiday, even the rain refrained from falling. "We – and the sun – we had a wonderful celebration ! I would love to go back – and often !", exclaimed the king Willem-Alexander to thank Amersfoort to his home, interviewed with his wife and their eldest daughter, Catharina-Amalia, who have also answered the questions of journalist Sander Paulus for RTL Nieuws. "It is sometimes surreal to me to realize what my life", he said the heir to the throne, with a smile and with aplomb. And, also, a lot of natural : "I don't want to play a role, I want to show myself as I am", she said.