In the first quarter, Apple has returned to Samsung and the head of the tablet market in EMEA, which includes Europe, the Middle East and Africa. In the first three months of the year, the manufacturer from Cupertino has delivered over 2.3 million ipads, compared with 2.2 million for its Korean rival, according to IDC. The situation was reversed in 2018 to the same period : with almost 2.5 million tablets shipped, Samsung exceeded Apple and its 2 million ipads.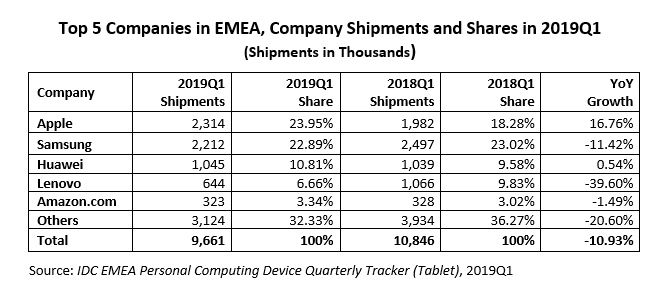 Apple now owns nearly 24% of the market in EMEA, compared to 22.9 per cent for Samsung. Another lesson from these figures, the evolution of sales between the two constructors : a year-on-year, shipments of the iPad rose by 16.7%, while those of the Samsung tablets have fallen 11.4%.
The iPad Pro launched late last year have certainly helped this surge in the first quarter, readable also in the sales figures of Apple (+21.5 per cent). The iPad Air 3rd generation and iPad mini 5th gen, which have made their appearance on the shelves in mid-march, should help Apple to maintain pole position.

On the other hand, the volume of total deliveries has decreased, the market in EMEA is dropped below the threshold of 10 million tablets : 9.6 million over the first three months of the year (-10,93% compared to the first quarter of 2018). IDC is not much more optimistic for the coming years : the deliveries should return to 2.3% between 2019 and 2023.
The market share of iOS, so the iPad, it should stay at around 22%, while that of Android lower than 5 points (about 70 to 65.8%). It is Windows who will benefit, with a market share of 11.3% in four years, compared to 7.6% in 2019.