CSS Scan is a new extension for browsers which simplifies considerably the analysis of the style of sites. All modern browsers incorporate a inspector that allows, among other things, to view the CSS style sheet of each page. But this extension goes a step further, since it directly displays the CSS code for any element over the page in a small pop-up. On the way, the CSS code is "cleaned up" for a clearer display, in particular regarding the properties of overview.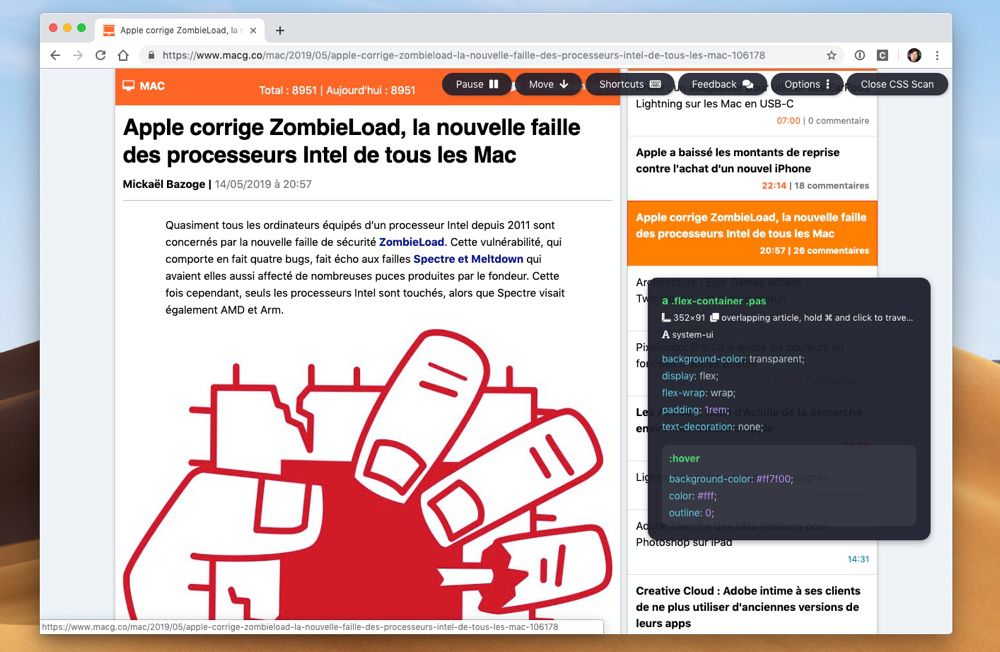 In addition to this display function, CSS Scan simplifies the lives of designers and web developers to copy the CSS displayed with a click. The space bar also allows you to block the block currently on the screen and display a second by hovering over another element on the page. Other options are available in the dedicated menu, one to show the grid that separates each element, and the other to manage what will be copied exactly (only the properties or class names, for example).
For the moment, the extension CSS Scan is offered in Chrome and Firefox, but its creator has indicated to us that a version for Safari will follow soon. In all cases, the extension adds its interface to the top or bottom of the current page, and you can activate it with a click or using the keyboard shortcut ⌘⇧S on macOS.
Unlike the majority of browser extensions, CSS, Scan for a fee. You can download it on the Web Store of Chrome, but it will be useless without a license, and you will be able to download the Firefox extension after purchase. The extension is sold 25 $ HT in normal times, but it is proposed for a few hours even at $ 10 HT only, or about 10.7 €.
There is not really demonstration limited in time, but you can try for free CSS Scan on its official website. Click on the button "Try it yourself on this page " at the top and you will activate an interface similar to that of the extensions for Chrome and Firefox, but in the current browser. And it even works in Safari.