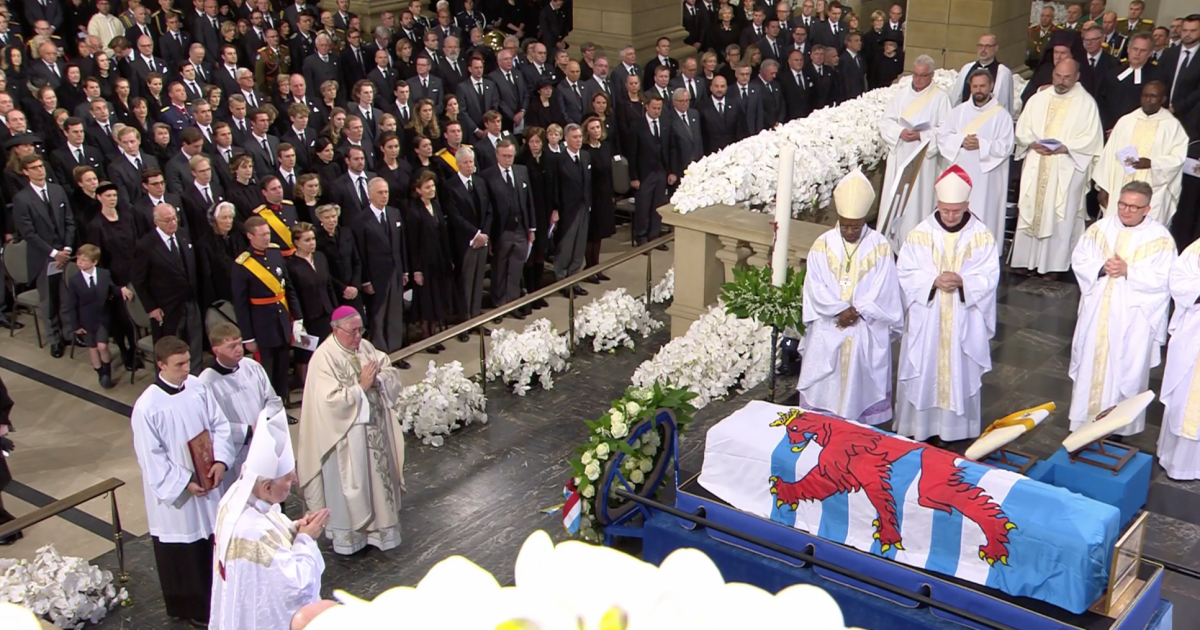 The grand duke Jean of Luxembourg died on April 23, 2019 at the age of 98 years. This Saturday, may 4, his loved ones, but also the countries and of many european royal families gathered in the sentence, and the recollection on the occasion of his funeral celebrated in the cathedral of Notre-Dame de Luxembourg.
Many Luxembourgers were there very early this morning to get a place in the cathedral. The ceremony was broadcast on large screens. While international figures such as Albert of Monaco, Juan Carlos and Sofia of Spain, queen Margrethe II of Denmark, or even Nicolas Sarkozy were already entered in the cathedral, the remains of the sovereign has left under good escort to the grand ducal palace at 11h02. A few minutes later, the coffin has finally joined the scene while were fired 21 cannon shots from the plateau du Rham. The funeral mass, presided over by the archbishop of Luxembourg, most reverend Jean-Claude Hollerich, was able to begin. As noted by the daily newspaper in luxembourg , The Vital, the emotion of the current grand duke, Henri, second child and eldest son of John, and his wife, grand duchess Maria Teresa was palpable.
The crowned heads at the appointment
Jean-Claude Juncker, president of luxembourg of the european Commission, and Xavier Bettel, Luxembourg's Prime minister, attended the mass as well as the presenter Stéphane Bern. Among the european royal families, the Belgians are coming to neighbors and friends, many since king Albert and queen Paola have made the move, but also the king Philippe and queen Mathilde, prince Laurent of Belgium, brother of Philip, and their sister, princess Astrid and her husband prince Lorenz. Had also confirmed their coming : prince Alois of Liechtenstein and princess Sophie, heirs to the principality of monaco, princess Astrid of Norway, widow of the previous king, king Harald V of Norway and queen Sonja, king Carl XVI Gustaf and queen of Sweden, queen Beatrix of the netherlands, prince Hassan and princess Sarvath of Jordan, but also princess Anne of the United Kingdom.
Born on 5 January 1921 at the castle of Berg, Jean de Luxembourg has performed a great military career. Crown Prince during the Second world War, he participated in many battles, as well as to the liberation of his country with the Allies. In 1953, he married princess Joséphine-Charlotte of Belgium, who died in January 2005. The couple had five children : princess Marie-Astrid (1954), prince Henri (1955), current grand duke, prince Jean (1957), princess Margaretha (1957) and prince Guillaume (1963).
Jean became grand duke of Luxembourg on 12 November 1964 and remained for thirty-six years. He abdicated on 7 October 2000, in favour of his eldest son, the grand duke heir Henri. John now rests in the crypt of the cathedral.