With the Apple Watch, the AirPods and products Beats, Apple has solid assets to remain in the lead of the standings of vendors of wearables. IDC, definitely in great shape now, has established the top 5 manufacturers in this sector that is doing well : 49.6 million of these products were delivered in the first quarter, volume increased by 55.2% compared to the first three months of last year. 63.2% of the devices have been watches and bracelets connected, 34.6% of headphones.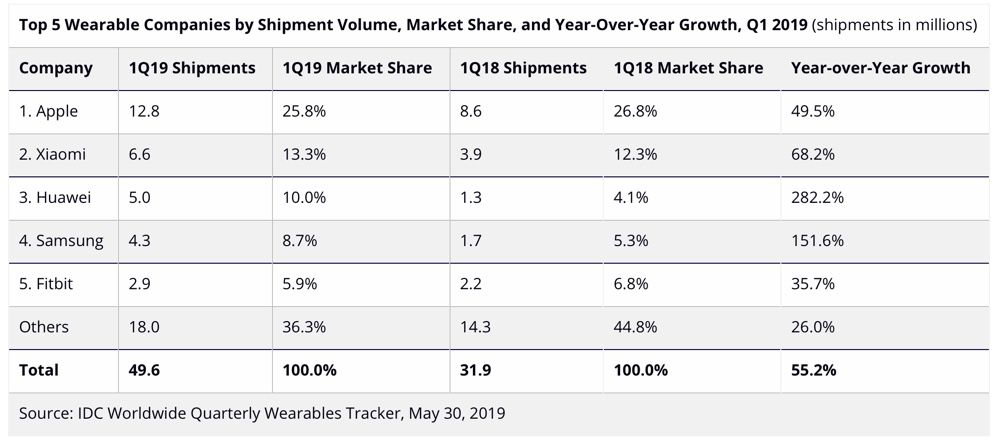 Apple is at the forefront, with 12.8 million products delivered, which is 49,5% more than in the first quarter of 2018 and a market share of 25.8%. Nevertheless, the manufacturer loses a point of market share nibbled by Xiaomi, Huawei, and Samsung, which have benefited from faster growth rates than Apple : respectively, with 68.2%, 282,2% (!) and 151,6%.
Of course, the volumes delivered by the competition are far less important : 6.6 million for Xiaomi, 5 million to Huawei and $ 4.3 million for Samsung. By the way, if Xiaomi and Huawei have recorded such progressions, it is for reasons that are very specific : the price charged by the first are modest ; watches and wireless earphones are usually provided with smartphones in the second.
It would be curious to know the results in terms of value. 455 $, the average price of the Apple Watch has thus increased from 29 $ a year on the other. The AirPods 2nd generation are also more expensive (229 €), even if Apple has kept to the catalogue a model at 179 €. In the first quarter, sales of "other products" of the manufacturer (including his watch and his headphones) have exceeded the 5.1 billion dollars, in increase of 30%.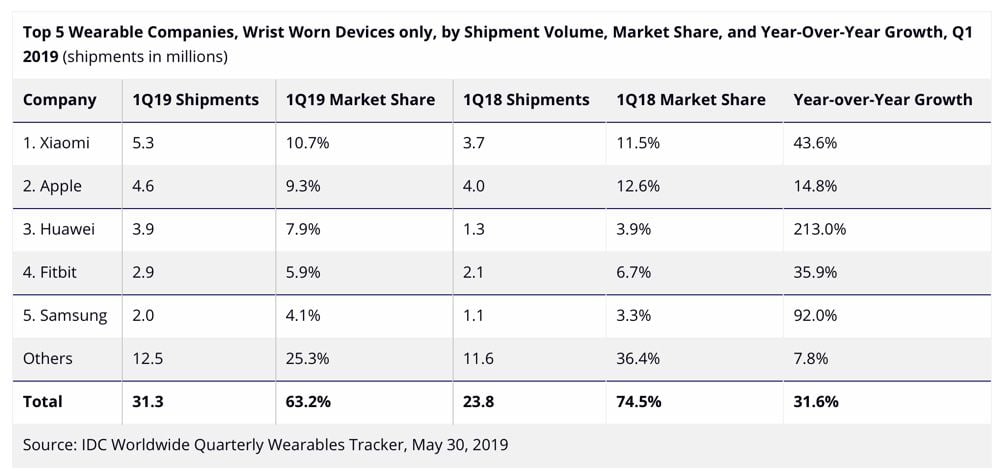 On the only segment of the watches and bracelets, Apple (9,3% of the market) should give his seat to Xiaomi (10.7 per cent). Deliveries of the Apple Watch have increased by 14.8%, but those bracelets cheap Xiaomi climbed to 43.6%. Huawei is third with 3.9 million units shipped, a figure that has increased by 213% !). Remains to know now if the little worries the latest chinese giant will not take deliveries to decline in the coming months.