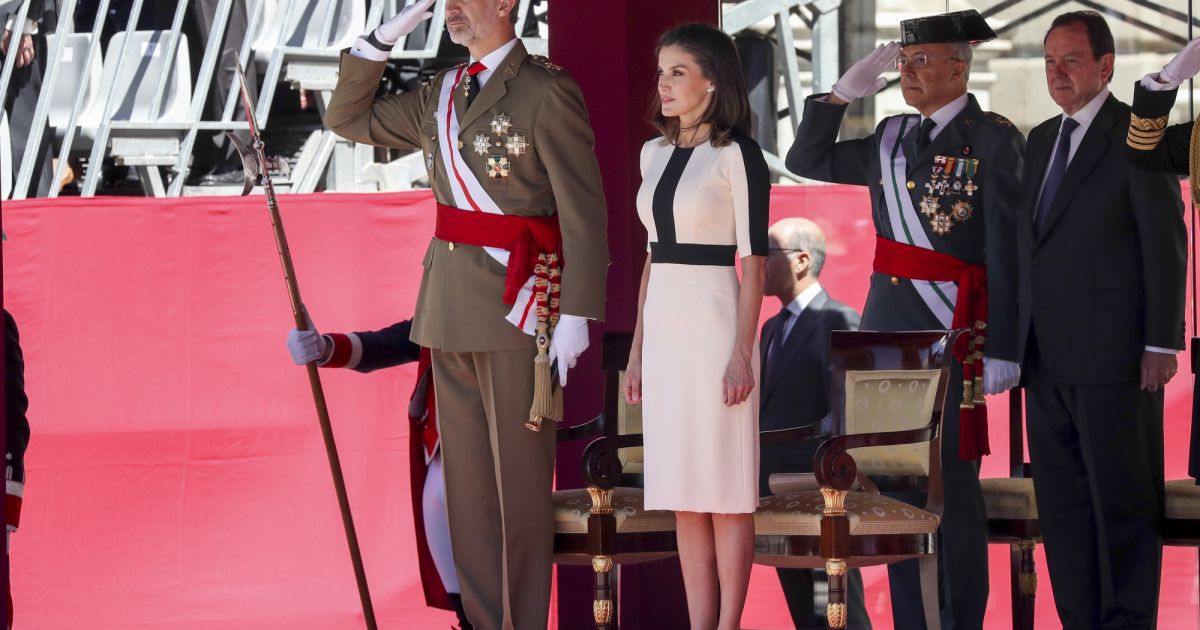 Letizia of Spain has left the ambiance of fire to stadiums and evening finals to one, less flashy and particularly solemn celebrations in the military : two days after he presided over the final of the Copa de la Reina to Granada, the queen stood Monday 13 may 2019 at the side of king Felipe VI, in uniform, on the occasion of the celebration of 175 years of the civil guard, or "Benemérita".
On the forecourt of the royal palace in Madrid, the king reviewed the troops before joining on the official forum his wife, very elegant in a white dress with black stripes, and observe the parade in the company of political figures, first and foremost, the president of the government, Pedro Sanchez, minister of Defense, Margarita Robles, and the minister of the Interior, Fernando Grande-Marlaska. A few months earlier, in September 2018, the royal couple had been already honoured a major event with this large force of Spanish police, celebrating then the 30th anniversary of the integration of women in its ranks.
Before the ceremonies, a minute's silence was observed in memory of Alfredo Pérez Rubalcaba, former Interior minister, former Education minister and former Secretary general of the Spanish socialist Party died Friday, may 10, at the age of 67 years. The same day, Felipe and Letizia of Spain had gone to pray in front of the coffin of the deceased and present their condolences to his family at the fervent chapel installed in the Senate. The king Juan Carlos I and queen Sofia have returned to their tour the next day, Saturday, may 11.
Saturday night, the queen Letizia of Spain is the ambassador of women's sport : "I think it is important to support the sport for women, Spanish, and not just football, she declared in front of television cameras in the margin of the final won by Real Sociedad. The women are competing for years, it is for this reason that it is important that the institutions, the sponsors, the press and the society continue to support the sport for women, with strength."