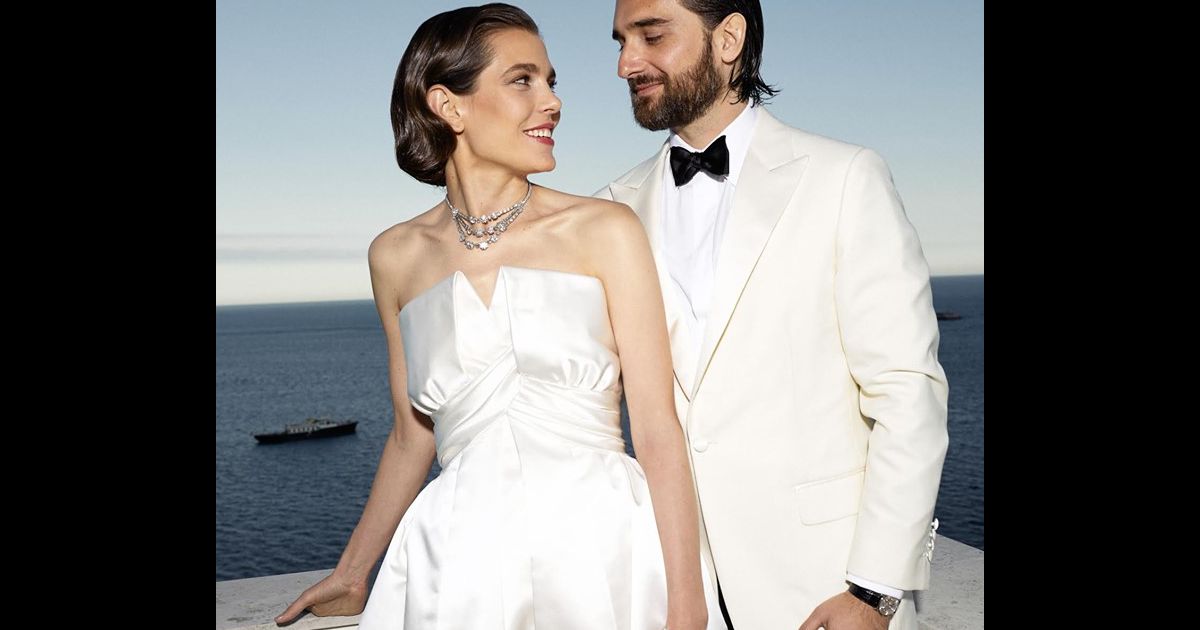 Saturday 1 June 2019, Charlotte Casiraghi married Dimitri Rassam. The young 32 year old woman and the producer of cinema of 37 years were married in the prince's palace.
Yesterday in the afternoon, on his page Facebook official, the palace of monaco has confirmed the union of the daughter of the late Stefano Casiraghi and princess Caroline of Hanover, the son of the legendary Jean-Pierre Rassam and actress Carole Bouquet by posting a first photo of the couple. This Sunday, June 2, a new photo shows Dimitri Rassam and Charlotte Casiraghi at the villa La Vigie. We discover the outfits of the evening of lovers.
Dimitri Rassam wears a jacket of the white tuxedo with black trousers. The bride wears a strapless gown divine white draped on the front. The couple poses in front of the sea to The Lookout where the dinner and party were held. The bride is wearing a beautiful diamond necklace and a hairstyle very glamorous, very movie star, a necklace belonging to her grandmother, the legendary Grace Kelly. Charlotte Casiraghi plunges his gaze in that of Dimitri Rassam in this very nice official portrait of their wedding. Earlier in the day, she wore a short dress the Saint Laurent and was capped by his accomplice John Nollet.
The young couple were attended by 500 friends and relatives for their wedding. For their civil union at the palace, Charlotte Casiraghi had chosen her friends Juliette Maillot and Vanina Mandelli to be his witnesses. Dimitri Rassam was supported by William Houz and Antoine Nussembaum. Nice-Matin states that the ceremony was celebrated by "Laurent Anselmi, director of Judicial Services of the Principality and an officer of civil status of the princely family, before a lunch was served in the gardens of the Palace".