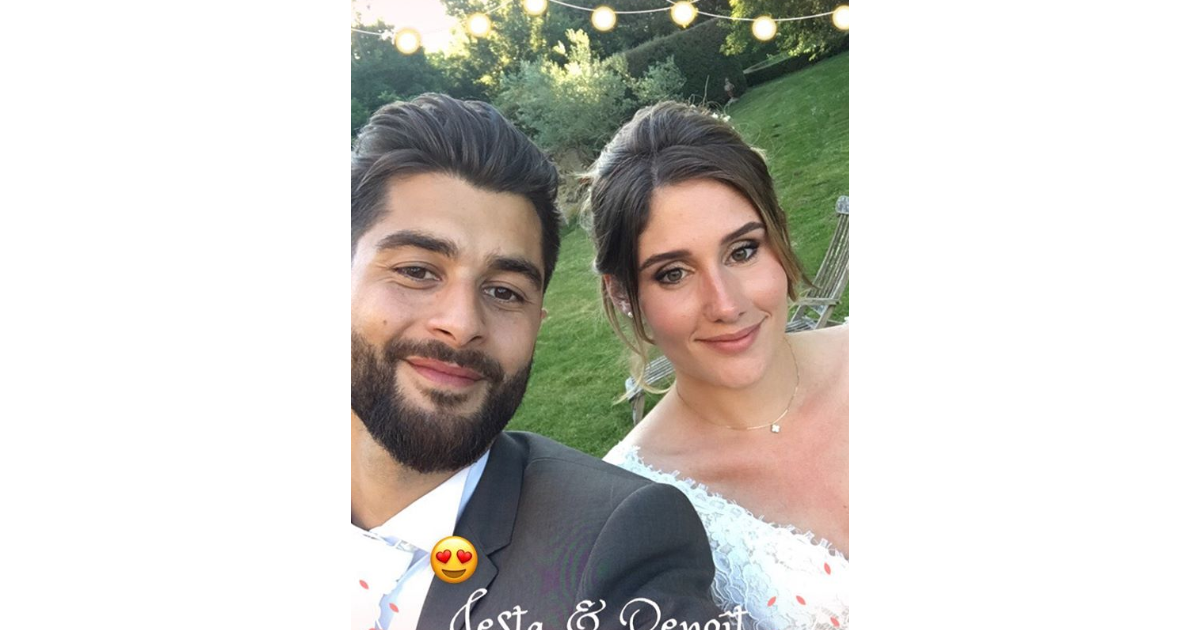 White notebook ! After three years of love, Jesta and Benedict, who met during the filming of Koh-Lanta, the island treasure (TF1) in 2016, have jumped into the world of marriage. Lovers have said "yes" Saturday, 1 June 2019 near Toulouse. A beautiful ceremony shared photos and videos on social networks.
In the afternoon, Jesta and Benedict were married at the town hall, in the presence of their loved ones. The adventurer was dressed in a gray suit and a shirt and a white waistcoat, matching her white sneakers also. For its part, the lovely Jesta, pregnant of 8 months, appeared divine in a wedding dress with long sleeves lace and straight-cut highlighting her pretty baby bump.
They are united in front of their families, friends and comrades of television. In fact, Candice, Amanda, Kunle, Lau, Laurent Maistret, Myriam, Cedric, Wafa, Bastien, Corentin or Freddy, all ex-candidates of Koh-Lanta, were of the party. Charlene and Benedict, as revealed in Secret Story 11, were also present for this important day. At the exit of the town hall, Jesta has honored the tradition of throwing her bouquet of flowers. And this is Candice who caught it ! Recall that the pretty blonde is in a relationship with Jérémy, also found in Koh-Lanta, the island treasure… The love will they be the next to join ? Case to follow…
After this wonderful time, direction Seilh, 15 kilometers from Toulouse. This is the domain of Rochemontès as the party continued. A place offering a wide garden and a reception room to the rustic décor. The images of the two newlyweds have been released on the big screen, and Denis Brogniart was even obliged to send them a message of congratulations ! Finally the time came for the cake… in the shape of a totem of Koh-Lanta ! A dessert enjoyed by the bride and groom and their loved ones outside to watch the fireworks. A nice show…
Still congratulations to the happy newlyweds !