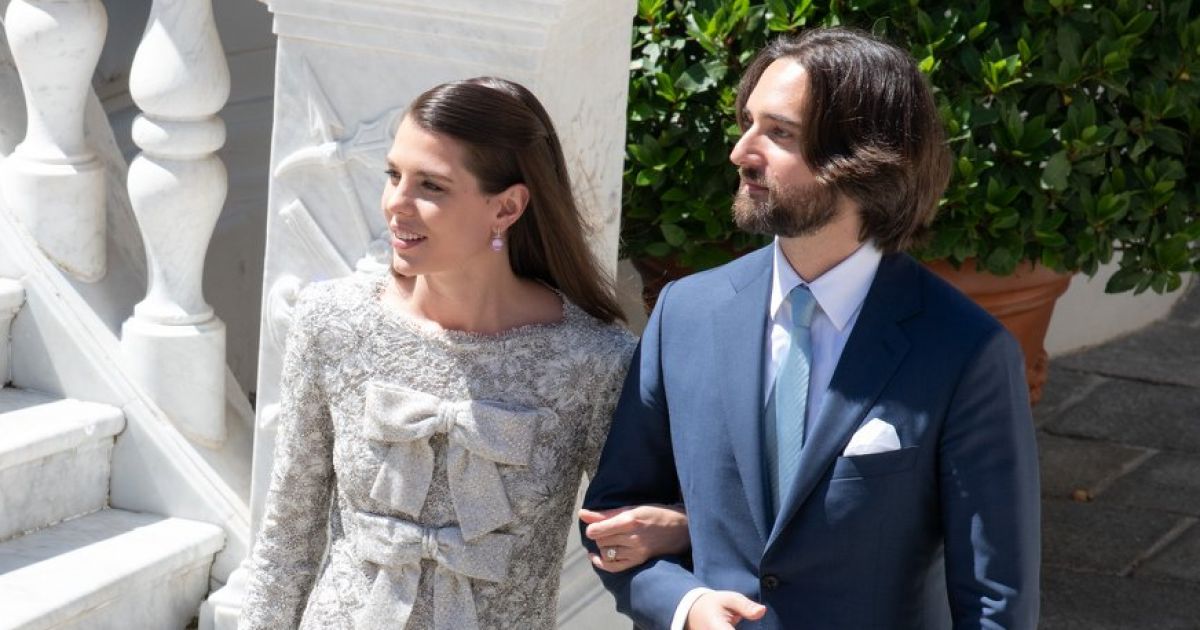 Charlotte Casiraghi is married to the film producer Dimitri Rassam, Saturday 1 June 2019 to Monaco. The palace has been very little news on the union expected between the daughter of Caroline of Hanover and Stefano Casiraghi (disappeared in 1990) and the son of the producer Jean-Pierre Rassam (died in 1985) and actress Carole Bouquet. In fact, only a photo of the newlyweds has been unveiled for the time being, with the confirmation that the marriage had been celebrated at the palace. It was the civil marriage.
In this photo, the young couple appears in the court of the palace, near the grand staircase. Dimitri Rassam's wearing a wearing a navy blue suit and Charlotte Casiraghi a short dress, decorated with knots of satin, particularly lovely. In a story Instagram, maison Saint-Laurent confirmed to have dressed the couple for their wedding. Charlotte Casiraghi, particularly keen on fashion, has chosen the designer of Saint Laurent, the French Anthony Vaccarello, for her big day. It is the choice of a modern house, but also a natural choice : Charlotte is ambassador for Saint Laurent in the last year. According to the magazine Gala, it is also a nod to her mother Caroline, who was, also, a dress by Saint Laurent for this wedding with Stefano Casiraghi in 1983.
Side hair, point of a bun or other extravagance, but a stripe on the side and a glossy particularly successful. Charlotte Casiraghi turned to his accomplice John Nollet for the hair. Hairdresser to the stars, it handles figures such as Vanessa Paradis, Nicole Kidman, Monica Bellucci , or Juliette Binoche who swear by him. John Nollet has also posted a photo of the newlyweds in a story Instagram.
At the end of the day it is up to The Watchdog that the party was held. A very nice party that lasted until the end of the night with 500 guests !