The trainer Maxime Britto offers a special pack beginner on the occasion of the WWDC 2019. For 39 € instead of 271, you will discover the basics of programming and learn to create apps for iOS devices. Better, content that is relevant to the new features of iOS 13 it will this week will be available during the summer ! The entire content is offered in French.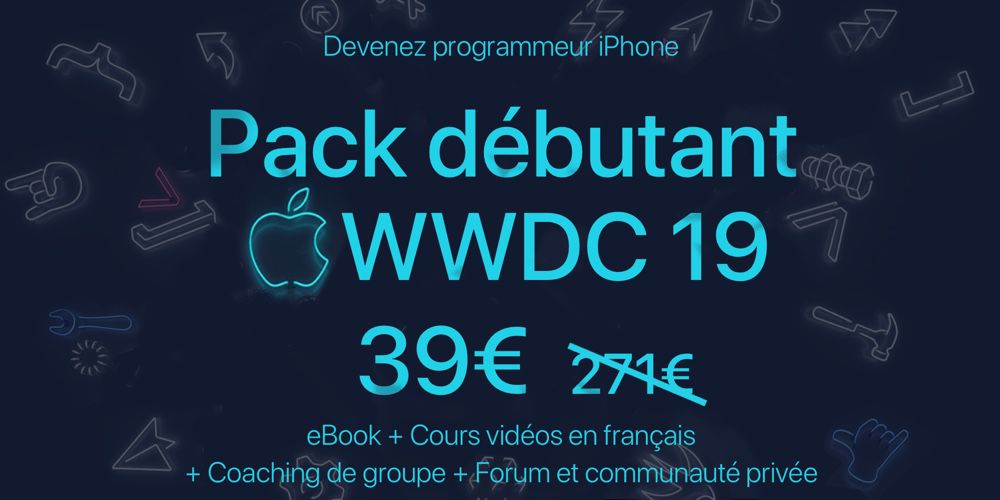 In detail, this pack contains :


The bases of the programming (14 €) ;


Learn how to create apps for the iPhone (79 €) ;


Creating iOS apps : advanced Level (79 €) ;


The new features of iOS 13 for programmers (49 €, exit this summer) ;


A year of group coaching monthly (value 50 €) ;


Access to the community and the private forum dedicated to training ;


More than € 300 in discounts on apps, services, accessories and equipment.


With these different elements, you should have the need to discover the basics of development for iOS and publish apps on the App Store. Maxime Britto offers training iOS for several years, and it updates its content every year, with the new features offered by Apple.
Also, if you had bought an old training Maxim Britto, and that only the new content you are interested, there is another promotion for you. For 29 € only, you will be able to access training specific to iOS 13, and a year of group coaching. No link for you, you will receive an email with the instructions to take advantage of this price.
After purchase, access to courses is unlimited. On the other hand, the promotion is limited in time : after the week of WWDC, the price of 39 € will no longer be available. Follow this link to receive the discount.