Volpy is an application that helps you to diagnose the state of your smartphone. By performing a series of test, the app provides you with a fixed price : if you agree, Volpy you bought it from. It is a simple and effective way to earn money while preserving the environment. With that, ended the old smartphones lying around in drawers !
Now you can exchange, buy or sell your smartphone without commitment with Volpy ! The community Volpy enjoy music, and have access to their favorite titles everywhere and all the time is an integral part of the use of a smartphone.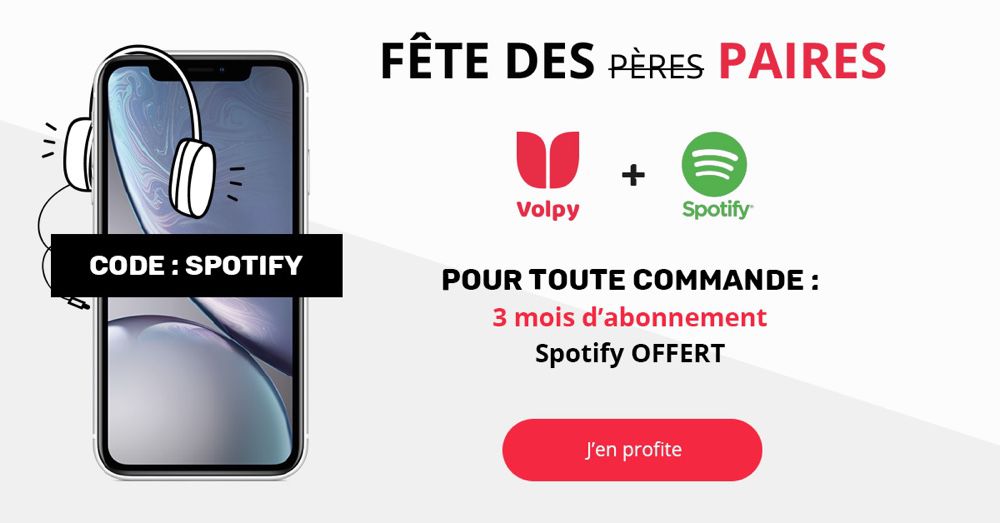 To celebrate father's day, Volpy offer until June 16, to their customers a Spotify subscription 3 months for any purchase, or any exchange of a telephone, valid for one year !
What is Volpy ?
Volpy is a startup made in France that has developed an application which allows you to exchange, buy or sell your phone. We all know this phenomenon : our smartphones have all of a lifetime. It would seem even that we keep our smartphones 18 months on average.
If your phone is outdated, no longer works fully, if it is broken, or if you just want to take a recent model, think about Volpy : an actor environmentally responsible manner that enables you to recycle your smartphone with ease. With them, completed the planned obsolescence.

Once the estimate for your phone made with the help of the app Volpy and in a few minutes, it does not remain you more that to the post for free to receive your money. Easy, right ? And in addition, you can also exchange it.
Questions ? Please do not hesitate to take a look at their FAQ.
Volpy x Spotify : win a subscription to Spotify Premium ! How to benefit from the offer ?
For those who would like to exchange or buy a smartphone, visit the app Volpy, test your smartphone, and then choose the offer that suits you. In your shopping cart, enter the code SPOTIFY.
Under 7 days, you will receive an activation code for your three-month subscription to Spotify Premium. The code is valid for one year, the opportunity may be to offer this subscription to all the dads for father's day !
Here is the code to enjoy the offer : SPOTIFY
Some small details are to be noted, however :


The offer is only valid on a basket of 250€ minimum,


The payment is possible in 3 or 4 times without fees


The offer is not combinable with other promotional offers


Interested(e) ? To download Volpy and benefit from the Spotify subscription, it is by here !
> Find Volpy on theApp Store and on the Google Play Store